How to Effectively Repel Moles and Voles with Natural Elements Mole and Vole Repellent
How to Effectively Repel Moles and Voles with Natural Elements Mole and Vole Repellent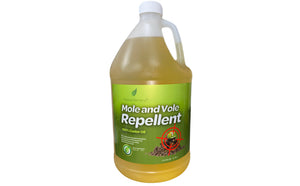 Moles and voles can be a nuisance for homeowners and gardeners, causing extensive damage to lawns and gardens. While there are many mole and vole repellent products available, some can contain harsh chemicals that can harm the environment or even your pets. That's why Natural Elements Mole and Vole Repellent is a great choice for those who are looking for a safe and effective solution.
Here is how Natural Elements Mole and Vole Repellent can help to repel moles and voles:
Coating the pest's food source: Moles and voles feed on insects and grubs that live in the soil. By applying castor oil to the soil, you can make it difficult for these pests to find their food, and make your lawn a less attractive environment for them.

Create an unpleasant environment: This product has a strong odor that can be repulsive to moles and voles. By applying it to your lawn, you can create an environment that is unpleasant for these pests, making it less likely for them to stick around.

Irritating the moles senses: In addition to its strong odor, the product has a bitter taste that can irritate the pests' senses. When the pests come into contact with the castor oil, they may be deterred by the unpleasant taste, which can help to reduce their activity in your lawn or garden.                      
Changing the soil texture: This product can help to change the texture of the soil, making it less conducive to the pests' burrowing behavior. When  mixed with water and applied to the soil, it can help to create a dense, sticky layer that is difficult for the pests to move through. This can be an effective way to deter the pests from your lawn and garden.
Natural Elements Mole and Vole Repellent can be an effective way to repel moles and voles from your outdoor space. By avoiding harmful chemicals and using natural repellents, you can protect your lawn and garden while still being environmentally conscious. Give it a try and see the results for yourself!